Vendor: finger-lakes-medical-supply-llc
Type: Criticare
Sku: c8100ep-1
Available: Available
Currently there are
peoples are currently looking at this product
Criticare nGenuity 8100EP1 CO2 Patient Monitor
View your patients' vitals at a glance with the Criticare nGenuity 8100EP1 CO2 patient monitor. The Criticare monitor displays clear, color-coded vitals so you can monitor the situation and take action in seconds. Transport the monitor anywhere due to its lightweight design, then mount it to a wall or stand. An integrated printer provides hard data when you need it.

The nGenuity™ patient monitor automatically defaults to CO2 or ECG TTI, giving you the best possible source. Each monitor comes with equipment for adults, children and infants. Connect the monitor seamlessly with your existing medical system, then give your patients the best possible care.

The nGenuity 8100EP1 patient monitor displays true end-tidal CO2 with numerical ETCO2 and INCO2 values as well as capnographic waveform. A smart respiration feature automatically defaults to the best available source, either CO2 or ECG TTI.

Criticare's advanced design capnometer module is accurate with breath rates up to 120 breaths per minute. Flow rate is set at 200 mL per minute for exceptionally fast response. A rise time responsiveness within 170 milliseconds provides outstanding waveform display.

The capnometer modules uses sidestream sampling and Criticare's patented WaterChek™ water traps to remove moisture without distortion to the CO2 waveform. The water traps have a large 22 mL reservoir and full occlusion clearing capability unlike many other CO2 monitoring systems.

Features and Benefits
Monitors End-tidal CO2 and inspired CO2 accurately at high respiration rates.
Gas Monitoring with full occlusion clearing and high capacity water trap.
Mini-Trends can display condensed tabular vital signs data to show recent monitoring activity.
Compatible with popular Electronic Medical Records (EMR) systems for both large facilites and small offices.
Easy-to-read 10.4" active TFT color display.
Easy to learn, easy to use -- simplified menus and dedicated function keys.
Monitor can mount quickly and easy to a wall or rolling stand
Simple-to-use, lightweight, and portable design.
Monitor comes with an integrated printer
Materials Included
8100EP1 Patient Monitor Unit
(1) SpO2 Adult Sensor
(1) Child/Small Adult BP Cuff
(1) Adult BP Cuff Quick Connect.
(1) Large Arm Adult BP Cuff.
(1) NIBP Hose - 10ft. Straight.
(1) ECG Cable Assembly.
(3) ECG Electrodes
(1) Printer
(1) Power Cord
(1) CO2 Sidestream
(1) CO2 Sensor
(2) Water Traps
(5) Sample Line
Operator's Manual
Technical Specifications
Dimensions:

Width: 13"
Height: 11"
Depth: 10.3"

Weight: 14 lbs
ECG

Number of Leads: 3- or 5-lead
Lead View: User-selectable; I, II, III, aVR, aVL, aVF, V (5-lead); I, II, or III (3-lead)
Gain Selection: x1/2, x1, x2, and x4
Frequency Response: Diagnostic: 0.05 to 100 Hz (-3dB)
Monitor: 0.5 to 40 Hz (-3dB)
Electrosurgery Protection: Yes
Defibrillator Protection: Yes
Pacer Detection/Rejection: Yes

Pulse Oximetry

Range: 1% to 99%
Resolution: 1%
Accuracy:

70% to 99% range: ±2%;
50% to 69% range: ±3%;
<50%: unspecified
Method: Dual wavelength LED

Non-Invasive Blood Pressure

Technique: Oscillometric during Inflation
Inflation Pressure Range: Adult/Pediatric: 30 to 300 mmHg
Neonate: 20 to 150 mmHg
Measurement Cycle: < 40 sec. average
Auto. Measurement: 2, 3, 5, 10, 15, 30 min; 1, 2, 4 hour intervals
STAT Mode: 5 minutes of consecutive readings
Resolution: 1mmHg
Transducer Accuracy: ±2mmHg or ±2%, whichever is greater
Clinical Accuracy: Complies with AAMI SP-10:2002

Heart (Pulse) Rate

Source: User selectable: Smart, ECG, Pleth, NIBP
Range: 20 to 300bpm (30-240bpm, NIBP)
Accuracy: ±1bpm or ±1% (ECG), whichever is greater

Temperature

Channels: 1
Range, Accuracy: 68° to 113° F (20° to 45° C): ±0.1° C
Display Resolution: ±0.1° C
Probe: YSI-400 and YSI-700 series

Trends

Memory: 24 hr at 30 second intervals with an NIBP

reading every 3 minutes.

Display: Tabular, Graphical

Interface & Display

Keys: 9; membrane-activated
Rotary knob: Push and rotate; 24 steps/turn
Screen: 10.4" active color TFT
Resolution: 640 x 480 pixels
Waveforms: 6, maximum
Waveform Types: ECG leads I, II, III, aVR, aVL, aVF, V; Respiration; CO2, Pleth; ST Histograms
Sweep Speed: 6.25, 12.5, 25, 50mm/sec
Languages: English, French, German, Italian, Portuguese, Spanish, Russian, Chinese

System Outputs

Nurse Call: Contact switch; 3.5 mm phone
COM Port: RS232 compatible, DB9 (Com 1)
Defib/Sync: BNC connector
Video Port: High density D-sub 15-pin serial VGA compatible

Power Requirements

Voltage: 100 to 240 VAC; 50/60 Hz
Power Consumption: 35 Watts, typical

Environmental

Operating Temperature: 59° to 95° F; 15° to 35° C
Storage Temperature: 23° to 122° F; -5° to 50° C
Operating Humidity: 15% to 90%, non-condensing

Capnography (CO2)

Units: mmHg; %; kPa; Torr
Method: Non-dispersive infrared; autocalibrating
N2O Compensation: Manual; On/Off, user selectable
Range: 0 to 99mmHg; 0 to 12.5%
Resolution: 1mmHg; 0.1%; 0.1 kPa; 0.1 Torr
Flow, Sample Rate: Sidestream; 200ml/min
Accuracy: ±2mmHg, ±0.3 volume %, ±0.3 kPa, or ±2 Torr

at 200 ml/min & respiratory rate <= 120 bpm

Rise Time: 170ms (10-90%) at 200ml/min

Printer

Type: Thermal line printer
Paper Speed: 12.5, 25, 50 mm/sec
Office Management Software Compatibility – CSI products are compatible with the following OMS products below.

Kodak WINOMS CS by Carestream Dental LLC
TiME for OMS by Decision Base, Inc.
U.S. HealthRecord powered by TeamLINKS, Inc.
Oral Surgery-Exec® by DSN Practice Management Software
OMSVision® by HenrySchein Practice Software
Windent® by Carestream Dental LLC
MD-REPORTS
ProVation® Medical
gMed
Endosoft®
Warranty Information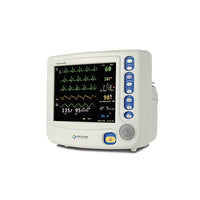 Ngenuity
$0.00